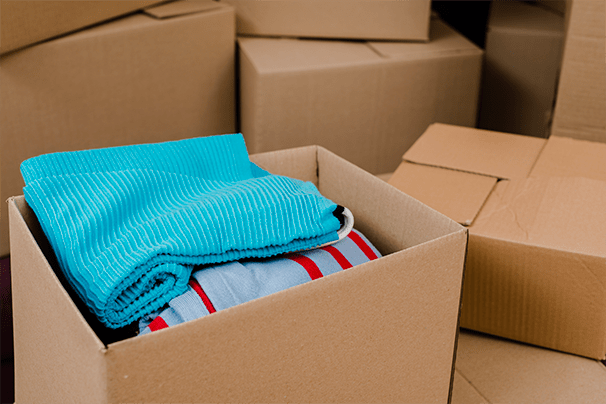 Moving Boxes and Supplies in Brooklyn
A safe move starts with a safe packaging and for safe packing, you need sturdy boxes with high-quality supplies. Don't go amuck, we provide them all.
As your trusted local mover for 50+ years, Brooklyn NY movers offers its customers a variety of moving boxes and supplies ensuring a perfect move. Having all your boxes and packing supplies in hand, you can have the best packing experience of your life.
Managing all your stuff can be taxing in case if you have loads of stuff to pack. Let us help you with our huge selection of moving supplies which includes shipping boxes, packing boxes, packaging supplies, cushioning materials, and a lot more. We offer low-rate packing services.
We commit to providing you the high-quality boxes and supplies services in Brooklyn, NY. We guarantee to handle your precious belongings with the utmost care and lightening your strain on moving day.
Standard Moving Boxes
Cubic foot moving box: These moving boxes are available in different sizes 1.5, 3, 4.5 and 6 cubic foot moving boxes. These are used to pack lighter goods like food jars, books, cans, lamps, pillows, bedding, etc.
Wardrobe moving boxes: It is used to transport clothes on hangers. There is a metal bar along the top of a box to hang clothing.
Boxes for moving dishes: These boxes are used to pack fragile items such as fine bone china and glassware. It is the strongest boxes we have.
Divider Inserts: It is used to form individual cells inside a box for fragile items. They are made of cardboard and are adjustable.
Mirror/Picture box: It comes in large or small sizes. To provide cushion at the corners, it has crumpled packing paper. Before boxing, mirror or picture is packed in bubbled wrapping to avoid any breakage.
Packing Supplies
Packing paper/plain newsprint: It is used to wrap everyday goods to prevent scratching.
Tissue paper: It is used to wrap very delicate items. It is a softer material and provides cushioning.
Bubble wrap: It is a plastic wrapping with tiny air cushions used to wrap fragile and delicate items after they are wrapped in tissue. It provides cushioning to avoid any damage.
Foam Pouches/ Bubble Pouches: These are used to provide cushioning to fragile items.
Pink anti-static bubble wrap: It is used to wrap electronics like a computer, etc. It is different from bubble wrap as it does not cause static electricity, thus electronics are saved from damage.
Labeling Supplies: Permanent markers are used to label boxes with details. It helps to mention the address, mark boxes "fragile", "handle with care" or "this side up".
Re-sealable plastic bags: Use to pack smaller stuff.
Packing Tape and Film: It is plastic tapes and packing films available in different widths.
Mattress Bags: These are used to provide protection to your mattresses against dirt and dust during a move.
Moving Blankets: These are used to pack precious goods and help you in moving pianos, furniture, etc.
If you are searching for expert movers who offer professional moving and packing along with the moving boxes and supplies services for a hassle-free move, Brooklyn NY Movers is your team. We also provide home delivery on boxes and supplies of all kinds. Reach us today!
Call718-689-0556to speak with our professionals for boxes and packing supplies in Brooklyn. They will guide you through the details of your move & give you a GUARANTEED FLAT RATE.